The WN-1208 electric lock receiver works with your security cage's slide gates and allows you to easily upgrade to a high security access control system.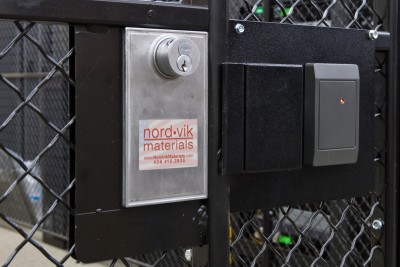 Benefits
Fail Secure operation
24 volt DC power input
Integrated door position built-in
Installation time is less than 30 minutes (typically)
Can be combined with REX device during field installation
Works with standard mortise lock equipped slide gates as well as with gates equipped with upgraded higher security mortise lock cylinders
Integrated reader mounting plate pre-drilled to accommodate many types of readers on the market (biometric, proximity, magnetic stripe)
A better alternative to mag lock / magnetic lock / electromagnetic lock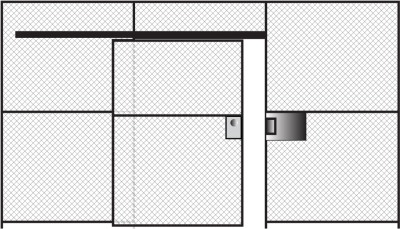 The WN Cage Management System includes an integrated door position switch, and can be upgraded to include a customer specified access control reader/device. Currently, the WN strike receiver has pre-drilled holes in the access control mounting plate for commonly used readers i.e. HID ProxPro 5355 and the Identix V20 Finger scan readers. The integrated reader attachment plate also includes a 1" diameter hole for ease of wiring.
EASY
The 24V-DC WN Series Cage Management System was designed to install on most new or existing standard cage slide gates in 30 minutes or less. The WN Cage Management System is compatible with many different manufacturers of caging. In most cases, the WN units can be pre-assembled with a customer specified access control reader/device upon request.
SECURE
The WN Cage Management System is Fail Secure. It does not affect the integrity of the cage through installation and offers security through all phases of construction. It does not require a power source in order to provide a secure, locked cage environment. All WN modified cages allow both cage access/egress via operation of the slide gate's existing standard mortise lock. Customers still have the confidence of a fail secure setup with built in emergency egress. All other cage sliding gate components remain intact and operate as before.
Flexible
The WN Cage Management System is a direct replacement for your existing slide gate receiver unit. This allows for future flexibility as it can be added initially at cage construction even without an immediate need for an access control environment. As security needs change, the WN allows for future integration into an access control system. The WN is designed to work with any access control device on the market.  The standard wiring configuration allows for integrations with a variety of desired input and output devices used on the cage.
WIRING
WN-1208 units ship standard with five different colored 22 gauge insulated wires.  This wiring scheme allows for powering of the WN unit as well as integration of an access control device (optional) and the integrated door position switch.